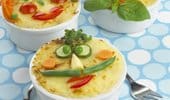 The whole family will enjoy making these self-portraits. It's also a great idea for a birthday party game.
Provide a platter of prepared vegetable sticks and slices for everyone to choose from to create a portrait on top of individual potato-top pies or mashed potato piled on saucers or potato rosti.
For example:
carrot for hair (use zester to make long thin strips)
salad cress or alfalfa sprouts for hair
red capsicum or tomato slices for lips
baby sweet corn for nose
celery slices for eyebrows
cocktail cucumber slices, baby carrot slices or radish slices, and peas for eyes
blanched French beans for moustache
blanched cauliflower for ears
cherry tomatoes for cheeks
basil sprig for bow-tie
Be sure to provide extra carrot, cucumber or celery sticks for eating while the portraits are being made.
Demonstrate a portrait to show young children how to make them, and then let them make their own.
To blanch: Place vegetable in rapidly boiling water for 1-2 minutes. Remove and cool in iced water or under cold running water. Drain well.