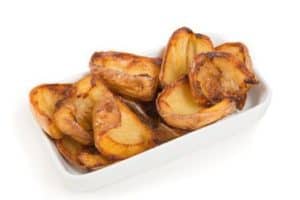 These are so trendy and so delicious, as well as being so easy to make.
Serves 4-6
4-6 baking potatoes
2 Tbsp canola oil
Preheat oven to 220°C.
Prick potatoes with a fork and place in preheated oven. Bake for about 45 minutes until soft.
Remove from oven, slice into quarters and scoop out potato flesh.
Place potato skins in a baking dish, drizzle with oil and return to the oven. Roast for 30-40 minutes until crisp.
Remove from the oven and serve.
Tip: use the potato flesh to make Skordalia (see our recipe).
Nutrition Information Panel
Per Serving [6 Serves]
Energy
260 kJ
Protein
0.9g
Total fat
– saturated fat
4.6g
0.5g
Carbohydrates
– sugars
4.7g
0.14g
Fibre
1g
Gluten
0g
Sodium
4g
Gluten Free