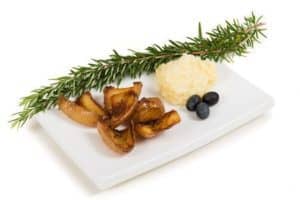 Serve with chunks of bread, vegetable sticks, potato skins, salami and olives.
Makes 4-5 cups
6 large mashing potatoes, peeled and cooked
2 cloves garlic, peeled and crushed
½ cup olive oil
2 Tbsp white wine vinegar
pinch salt
½ tsp lemon juice
1 egg yolk
extra olive oil and cracked black pepper
sprig of rosemary
In a mixing bowl mash potatoes and garlic and beat until smooth.
Meanwhile mix oil, vinegar, salt, lemon juice and egg yolk in a jug. Gradually add the oil mixture to the potato and beat well until combined. Cover with cling film and refrigerate overnight.
Place dip in bowls. Drizzle with olive oil, and add cracked black pepper.
Garnish with sprigs of rosemary, and serve with potato skins (see our recipe) and black olives.
Potato skins are in the foreground of the image.
Nutrition Information Panel
Per Serving [ Serves]
Energy
703 kJ
Protein
2.3g
Total fat
– saturated fat
11.7g
2g
Carbohydrates
– sugars
15.2g
0.2g
Fibre
1.5g
Gluten
0g
Sodium
98g
Gluten Free