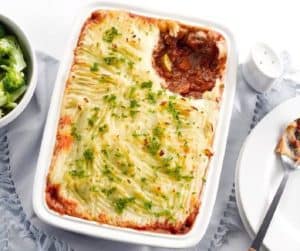 Try this tasty potato and lamb or beef dish and always choose Quality Mark beef and lamb.
Thanks very much to Beef Lamb NZ for sharing this recipe.
500g lean Quality Mark beef or lamb mince
1 Tbsp oil
420g jar pasta sauce
1 stalk celery, finely chopped
6 button mushrooms, sliced
1 carrot, peeled and finely chopped
1 courgette and/or other seasonal green vegetables, finely chopped
4 medium mashing potatoes, peeled and quartered
Preheat the oven to 180°C.
Brown mince in the oil in a hot pan, breaking the mince up into small pieces with the back of a spoon. This is best done in two batches.
Stir in pasta sauce and vegetables but not the potatoes.
Cover and simmer gently for 15 minutes.
Boil the potatoes in unsalted water until tender. Drain and mash.
Spoon mixture into a pie dish and top with mashed potato.
Bake in preheated oven for 15 minutes or until top is golden.
To boil potatoes:
Scrub or peel potatoes as required. Slice in half.
Place in a heavy-based saucepan and cover with cold water. Place lid on the saucepan.
Bring to the boil, reduce heat and simmer for 10-15 minutes or until tender. Drain.
The time of cooking will depend on the size of the pieces of potato.
Serve with steamed green vegetables.
Nutrition Information Panel
Per Serving [ Serves]
Energy
488 kJ
Protein
6.7g
Total fat
– saturated fat
6.3g
2.6g
Carbohydrates
– sugars
7.8g
2.5g
Fibre
1.5g
Gluten
5g
Sodium
133g