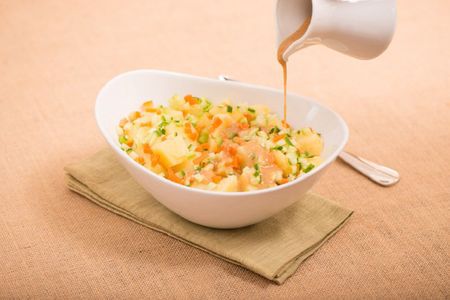 Sesame oil adds an Asian flavour to this easy salad.
Serves 4
4 boiling or salad potatoes, peeled and chopped
pinch salt
Dressing:
¼ cup white vinegar
2 Tbsp vegetable oil
1 Tbsp sesame oil
pinch ground coriander
pinch ground ginger
1 Tbsp sugar
¼ telegraph cucumber, diced
1 red capsicum, or 2 tomatoes, deseeded and chopped
Place potatoes and salt in a large saucepan, cover with water, bring to the boil, reduce heat and simmer for about 10 minutes or until just soft.
Remove from heat and drain. Place potatoes in a bowl and cool.
Place vinegar, oils, coriander, ginger and sugar in a screw top jar. Shake well, then pour over the potatoes. Toss gently.
Serve sprinkled with cucumber and capsicum.