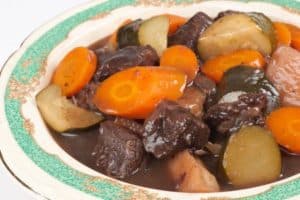 This hearty stew uses plenty of vegetables and it's fashionable rather than old fashioned!
Serves 4
1 Tbsp red wine or water
1 tsp vegetable oil
1 Tbsp cornflour
1 Tbsp lite soy sauce
500g New Zealand farm-raised venison, diced
2 Tbsp vegetable oil
½ cup red currant or cranberry jelly
1 Tbsp sesame oil
1 cup water
3 onions, peeled and sliced
3 boiling potatoes, peeled and diced
2 courgettes, sliced
3 carrots, peeled and sliced
Combine wine, oil, cornflour and soy sauce in a bowl. Add venison and toss. Cover and leave to marinate in refrigerator.
Heat oil in a large heavy-based frying pan. Add drained venison and brown on all sides.
Add red currant jelly, sesame oil, water, onions, potatoes, courgettes and carrots.
Bring to the boil, reduce heat and simmer, covered, for about 45 minutes or until meat is cooked and vegetables are tender.
Nutrition Information Panel
Per Serving [4 Serves]
Energy
1873 kJ
Protein
34g
Total fat
– saturated fat
13.4g
1.9g
Carbohydrates
– sugars
45.5g
29.5g
Fibre
5.4g
Gluten
g
Sodium
227g