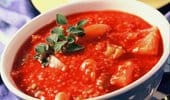 Using sprouted lentils in soups instead of traditional dried beans, lentils or split peas speeds up preparation time.
Serves 4-6
2 cups lentil sprouts, crunchy or chunky combo sprouts
1 onion, peeled and diced
4 cups prepared and chopped vegetables, e.g. potato, carrot, celery, leek, pumpkin, swede, parsnip etc.
2½ cups water
2 x 140g pots Italian pizza-style tomato paste or 1½ cups pasta sauce
chopped fresh herbs e.g. parsley, coriander, mint
Place all ingredients except herbs into a heavy-based saucepan and bring to the boil.
Reduce heat and simmer for 15-20 minutes or until vegetables are soft.
Remove from heat and serve garnished with herbs. Serve with crusty bread.
Variation: Add grated cheese with the herbs.
Nutrition Information Panel
Per Serving [6 Serves]
Energy
575 kJ
Protein
7.6g
Total fat
– saturated fat
0.9g
0.2g
Carbohydrates
– sugars
21.9g
10.3g
Fibre
5.9g
Gluten
g
Sodium
380g