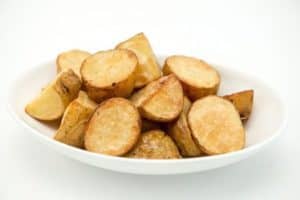 There is no need to peel potatoes – just wash them! Makes this a quick and easy dish.
Serves 4
600g roasting potatoes, washed, unpeeled, slice into chunks
vegetable oil spray
Preheat oven to 200°C.
Spray a baking dish with vegetable oil and place in oven to heat. Remove from oven, add potatoes and spray lightly with oil.
Roast in preheated oven for 35-45 minutes, or until golden and crisp, and tender when pierced with a skewer or knife.
Turn several times during cooking. Remove from oven and serve.
Tips:
Allow 1 medium-large roasting potato per person.
Choose a baking dish that is large enough to spread the potatoes out in a single layer.
Nutrition Information Panel
Per Serving [4 Serves]
Energy
776 kJ
Protein
3.8g
Total fat
– saturated fat
7.3g
0.9g
Carbohydrates
– sugars
24.8g
2.1g
Fibre
3.3g
Gluten
0g
Sodium
1.7g
Gluten Free