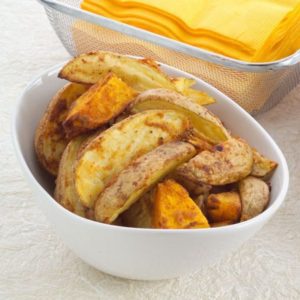 Ideal on a cold winters night, this tasty combination is a delicious twist on standard roast pumpkin and potatoes.
Serves 4
¼-½ tsp paprika
¼-½ tsp curry powder
2 Tbsp flour
2 Tbsp vegetable oil
pinch salt
freshly ground black pepper, to taste
400g pumpkin, peeled and sliced into chunks
4-6 roasting potatoes, washed and sliced into wedges
Preheat oven to 200°C.
Place oil in a roasting pan and place in oven to heat.
Place paprika, curry powder, flour, salt and pepper in a bowl. Add pumpkin and potatoes and toss to coat.
Remove roasting pan from the oven, and carefully add the vegetables. Toss and return to the oven.
Bake in preheated oven for 25-35 minutes or until golden brown and crisp.
Turn several times during cooking.
Remove from oven and serve.
Nutrition Information Panel
Per Serving [4 Serves]
Energy
1164 kJ
Protein
6.8g
Total fat
– saturated fat
7.4g
0.94g
Carbohydrates
– sugars
43.8g
4.9g
Fibre
5.3g
Gluten
5g
Sodium
43g