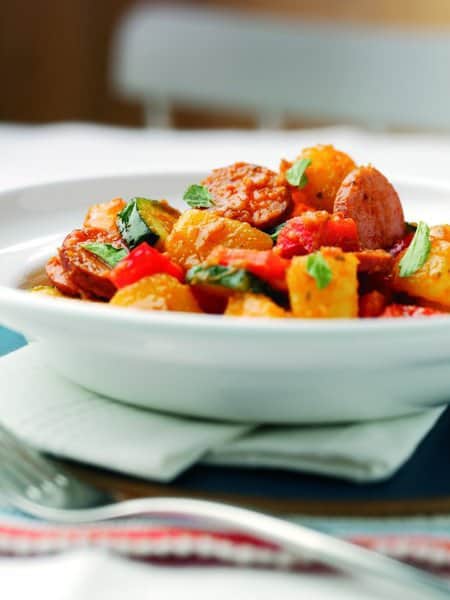 Simple and delicious for lunch or dinner
Serves 2
1 Tbsp vegetable oil
1 red capsicum, deseeded and diced
1 courgette, sliced into rings
225g reduced fat smoked pork sausage, sliced into rings
300g new or boiling potatoes, sliced into chunks, cooked as below
1 Tbsp sundried tomato pesto
1 Tbsp chopped parsley
Heat oil in a large heavy-based frying pan and add capsicum, courgette and sausage and stir fry for 5 minutes.
Add potatoes and pesto and cook for 1-2 minutes.
Place on plates and serve immediately, garnished with parsley.
Suggestion: This dish can work just a easily as a main. Simply double or treble the quantities.
To boil potatoes
Place potatoes in a saucepan and add sufficient cold water to just cover.
Place a lid on the saucepan and bring to the boil as quickly as possible, reduce heat and simmer gently.
Cook for 15-20 minutes or until tender when tested with a skewer or the tip of a knife.
Add extra boiling water if necessary. Drain.
Note: Always simmer vegetables as vigorous boiling will cause some vegetables to break up.
Nutrition Information Panel
Per Serving [ Serves]
Energy
2359 kJ
Protein
17.9g
Total fat
– saturated fat
38.7g
12.1g
Carbohydrates
– sugars
41.9g
3.6g
Fibre
5.5g
Gluten
g
Sodium
932g