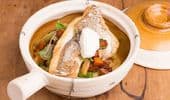 Bravas parmentier potatoes are delicious with any pan fried fish, especially if it is fish you have caught yourself!
Serves 1
15g finely sliced red onion
20 ml lime juice
1 lime, sliced into segments
½ tsp finely chopped deseeded green chilli
50g pumpkin, sliced into 1 cm cubes
60g spring onion, sliced into 6 cm lengths
olive oil, butter and flaky salt as required
20g labneh or Greek yoghurt
½ clove garlic, peeled and crushed
¼ tsp tahini
few drops lemon juice
salt, to taste
1 x 160g snapper fillet (skin on and bones removed)
salt, to taste
freshly ground black pepper, to taste
olive oil
butter
1 tsp shredded coriander leaves
120g bravas parmentier potatoes, warm (see our recipe)
Marinate the red onion in the lime juice for 60 minutes. After this the onion should be bright red. Drain any excess lime juice then add the lime segments and chilli.
Preheat oven to 180°C.
Coat the pumpkin and spring onion in a small amount of olive oil before roasting in preheated oven for 15-20 minutes, or until tender.
Combine the labneh with the garlic, tahini and lemon juice. Add a small amount of salt and mix well.
Season the fish with salt and cracked pepper before frying in a mixture of olive oil and butter. It is best to fry the skin side first before turning the dish over to complete the cooking.
Add chopped coriander to the lime and onion mixture.
To serve, place the potatoes on the bottom of a dish. Add the pumpkin and spring onion mixture and then the fish. Place the labneh on top of the fish and serve immediately.