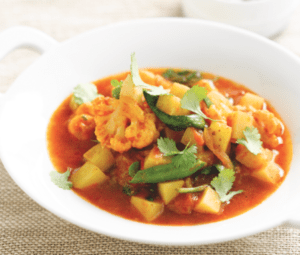 For an even quicker option, add a jar of your favourite curry sauce to replace the tomatoes and curry paste.
Serves 4
1 tsp vegetable oil
1 onion, thinly sliced
2 cloves garlic, peeled and crushed
2 Tbsp medium curry paste or 1 Tbsp medium curry powder
4 medium boiling or new potatoes, skin on and cut into small cubes
3-400g cauliflower, cut into small florets [approx ¼ cauliflower] 1 x 400g can chopped tomatoes
1¼ cups beef stock
1 Tbsp fresh coriander, roughly chopped
1 handful baby spinach
Heat oil in a large heavy-based saucepan.
Add onion and garlic and stir fry for 1-2 minutes.
Add curry paste or powder and stir fry for 1 minute.
Add potatoes and cauliflower and mix, stir frying for 1-2 minutes.
Add tomatoes and stock, bring to the boil, cover, reduce heat and simmer for 15-20 minutes or until the potatoes are soft.
Stir through coriander and spinach and serve.
Nutrition Information Panel
Per Serving [ Serves]
Energy
728 kJ
Protein
6.8g
Total fat
– saturated fat
2.7g
0.7g
Carbohydrates
– sugars
34.8g
8.6g
Fibre
6.2g
Gluten
5g
Sodium
321g