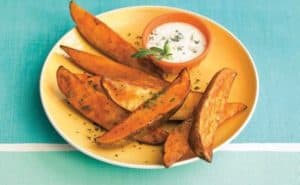 Tasty wedges to serve with grilled chicken and salad.
Serves 4
2 Tbsp buffalo or hot chilli tomato sauce
2 Tbsp butter, melted
1 tsp garlic salt
4 large baking potatoes
½ cup blue cheese or ranch dip
Preheat oven to 200°C.
In a large bowl, combine half the sauce, half the butter and the garlic salt.
Slice each potato into 8 wedges, add to the bowl and toss.
Spray a baking dish with vegetable oil. Arrange potatoes on the dish and roast in preheated oven for 35-40 minutes, turning once, until golden brown.
Remove from the oven and toss with remaining butter and sauce.
Place on a dish, serve with the dip and sprinkle with parsley.
Nutrition Information Panel
Per Serving [ Serves]
Energy
927 kJ
Protein
6.7g
Total fat
– saturated fat
10g
6.6g
Carbohydrates
– sugars
29.1g
2.5g
Fibre
2.7g
Gluten
0g
Sodium
709g
Gluten Free