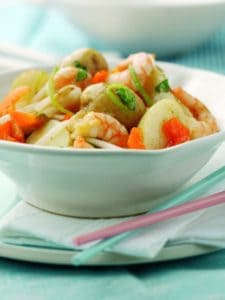 There are a few different Thai seasonings at the supermarket so try them out.
Serves 2
400g boiling or new potatoes, sliced into chunks
200g king prawns, cooked and peeled
150g bean sprouts
1 orange or yellow capsicum, deseeded and sliced
1-2 tsp Thai seasoning
1 lime
1 Tbsp chopped coriander
Boil the potatoes for 10-15 minutes or until tender. Drain and cool.
Mix together the prawns, bean sprouts and capsicum and stir in the potatoes.
Blend the Thai seasoning with the grated rind from half the lime and the juice of the whole lime.
Add to the mixture.
Serve garnished with coriander.
Nutrition Information Panel
Per Serving [ Serves]
Energy
1138 kJ
Protein
28.1g
Total fat
– saturated fat
1.5g
0.3g
Carbohydrates
– sugars
41g
3.4g
Fibre
5.2g
Gluten
0g
Sodium
360g
Gluten Free