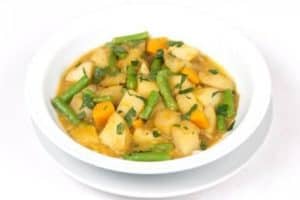 This is a delicious and easy one pot dish suitable for any occasion.
Serves 4
2 onions, peeled and chopped
1-2 Tbsp green curry paste
1 clove garlic, peeled and crushed
2 boiling or new potatoes, washed and diced
1 cup peeled, diced pumpkin
2 cups water
1 cup lite coconut milk
2 cups chopped green beans
1 x 425g can chickpeas, optional
2 cups diced cooked kumara
1-2 Tbsp chopped coriander or parsley,
Heat oil in a heavy-based pan.
Add onions and stir fry until clear.
Add curry paste and garlic and stir fry 2-3 minutes.
Add potatoes, pumpkin, water and coconut milk.
Bring to the boil, reduce heat and simmer for 10-15 minutes or until vegetables are just cooked.
Add beans and chickpeas and simmer for a further 4-6 minutes or until beans are tender.
Serve on kumara garnished with coriander or parsley.
Nutrition Information Panel
Per Serving [ Serves]
Energy
1369 kJ
Protein
10.4g
Total fat
– saturated fat
6.2g
2.5g
Carbohydrates
– sugars
64g
13.7g
Fibre
15.2g
Gluten
5g
Sodium
685g