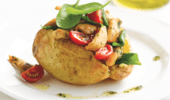 This recipe is for microwave-baked potatoes, but they can also be oven baked and are just as delicious.
Serves 4
4 large baking potatoes
2 tsp vegetable oil
4 skinless chicken breasts, sliced into small pieces
2 cloves garlic, peeled and crushed
4 Tbsp basil pesto
8 cherry tomatoes, sliced in half
2 handfuls baby spinach or rocket leaves
salad leaves for serving
Pierce potatoes in several places with a fork.
Microwave potatoes on high power for 4-5 minutes per potato or until tender.
While potatoes are cooking, heat oil in a heavy-based frying pan, add chicken and garlic and stir fry for 5-6 minutes or until browned.
Stir through pesto, then add tomatoes and spinach and stir.
Remove potatoes from microwave and stand for 1 minute.
Slice potatoes in half and pile the chicken mixture on top.
Serve with salad leaves.
Nutrition Information Panel
Per Serving [ Serves]
Energy
1700 kJ
Protein
45g
Total fat
– saturated fat
12.8g
2.4g
Carbohydrates
– sugars
32g
2.3g
Fibre
4.4g
Gluten
0g
Sodium
214g
Gluten Free