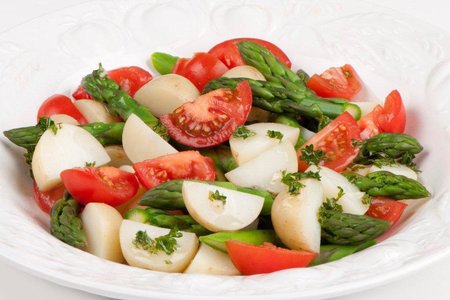 The secret of this salad is using lovely new season waxy potatoes. The asparagus can be eaten raw or barely cooked.
Serves 4
2 bunches asparagus
400g boiling or new potatoes, washed and cooked
4-5 small tomatoes, sliced into chunks
Dressing:
¼ cup lemon juice or cider vinegar
¼ cup olive oil
2 Tbsp sugar
1-2 cloves garlic, finely chopped
2 Tbsp finely chopped parsley
Cut asparagus stems in thirds.
Cook in boiling water for 3-4 minutes.
Drain and cool under cold running water. Pat dry.
Cut warm potatoes into halves or quarters.
Place potatoes, asparagus and tomatoes on a serving platter.
Mix lemon juice, oil, sugar, garlic and parsley together and pour over the salad.
To boil potatoes:
Place potatoes in a saucepan and add sufficient cold water to just cover.
Place a lid on the saucepan and bring to the boil as quickly as possible, reduce heat and simmer gently.
Cook until tender (15-20 minutes) when tested with a skewer or tip of a knife.
Add extra boiling water if necessary. Drain and serve.
Note: Always simmer vegetables as vigorous boiling will cause some vegetables to break up.