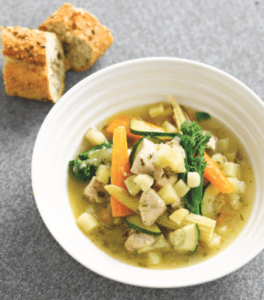 Try this delicious hotpot – it is very easy to make.
Serves 4
1 Tbsp vegetable oil
1 onion, peeled and finely chopped
1 clove garlic, peeled and crushed
2 courgettes, thickly sliced
2-4 skinless chicken breasts, diced
2 large carrots, peeled and roughly chopped
1 cup sweet corn kernels
4 medium boiling or new potatoes, washed and diced
1¼ cups chicken stock
1 handful herbs – thyme, coriander and parsley
half head broccoli, sliced into florets
Heat oil in a large heavy-based frying pan.
Add onion, garlic, courgettes and chicken and stir fry for 4-5 minutes.
Add carrots, corn, potatoes, stock and herbs. Bring to the boil, cover, reduce heat and simmer for 15-20 minutes until potatoes are cooked.
Add broccoli and cook a further 3-4 minutes.
Serve in deep bowls.
Nutrition Information Panel
Per Serving [ Serves]
Energy
1643 kJ
Protein
40g
Total fat
– saturated fat
7.9g
1.5g
Carbohydrates
– sugars
49g
6g
Fibre
8.9g
Gluten
5g
Sodium
271g