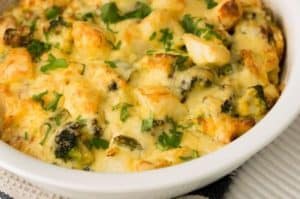 Delicious and so easy to make.
Serves 6-8
1 onion, peeled and sliced
1 clove garlic, peeled and diced
3 large boiling potatoes, cooked and diced
2 cups broccoli florets, blanched
1 cup sliced green beans, blanched
7 eggs
1 cup grated cheddar cheese
1-2 Tbsp chopped parsley
Preheat oven to 180°C.
Heat oil in a 20 cm heavy-based frying pan. Add onion and garlic, cover and and cook over a low heat for 15-20 minutes until the onion is clear.
Add cooked potato, broccoli and green beans. Fry mixture until ingredients are hot.
Whisk eggs, pour into pan and mix together.
Pour into a 20 cm square ovenproof dish. Sprinkle with cheese and place in preheated oven for 10-15 minutes, or until golden brown.
Sprinkle with parsley and serve.
To boil potatoes:
Place potatoes in a saucepan and add sufficient lightly salted cold water to just cover.
Place a lid on the saucepan, bring to the boil as quickly as possible, reduce heat and simmer gently.
Cook until tender (15-20 minutes) when tested with a skewer or tip of a knife.
Add extra boiling water if necessary. Drain and serve.
Note: Always simmer vegetables as vigorous boiling will cause some vegetables to break up.
To blanch vegetables: Place vegetables in rapidly boiling water for 1-2 minutes. Remove and cool in iced water or under cold running water. Drain well.
Nutrition Information Panel
Per Serving [ Serves]
Energy
839 kJ
Protein
13.4g
Total fat
– saturated fat
10.4g
5.1g
Carbohydrates
– sugars
16.2g
2.4g
Fibre
2.7g
Gluten
0g
Sodium
195g
Gluten Free