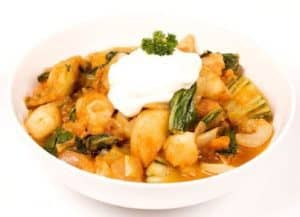 A tasty colourful weekday meal or make double and use for lunch the following day.
Serves 4-6
750g-1kg prepared vegetables: e.g. peeled and diced pumpkin, carrot, kumara, onions, potatoes, swede, parsnip
2-3 Tbsp red curry paste
2-3 cups water
pinch salt
freshly ground black pepper, to taste
2 heads spinach, washed and roughly cut
¼-½ cup lite sour cream or Greek yoghurt
4-6 sprigs parsley
Place the prepared vegetables, red curry paste, water, salt and pepper in a heavy-based saucepan.
Bring to the boil, reduce heat and simmer for 30-40 minutes or until the vegetables are tender when pierced with a knife.
Stir through the spinach. Serve with a dollop of sour cream or yoghurt, garnished with parsley.