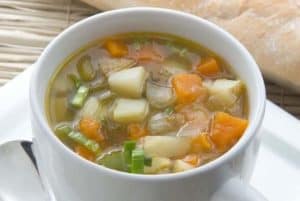 This soup tastes wonderful, especially on a winter day so make double, eat some today and freeze the rest for a quick winter lunch.
Serves 6
2 Tbsp vegetable oil
1 onion, peeled and chopped
2 each of carrots, kumara and potatoes, washed and chopped
3 stalks celery, including leaves, chopped
1-2 cups peeled and chopped pumpkin
6 cups vegetable stock
freshly ground black pepper, to taste
Heat oil in a heavy-based saucepan and stir fry onion and carrot for 3-4 minutes.
Add remaining vegetables and stir fry for 4-5 minutes.
Add stock and simmer gently for 15 minutes or until vegetables are tender.
Add pepper and serve.
Tip: Slice vegetables into bite-sized pieces.
Variation: Purée for a smooth soup.
Nutrition Information Panel
Per Serving [ Serves]
Energy
683 kJ
Protein
4.4g
Total fat
– saturated fat
5g
0.6g
Carbohydrates
– sugars
27.8g
5.4g
Fibre
3.6g
Gluten
5g
Sodium
546g