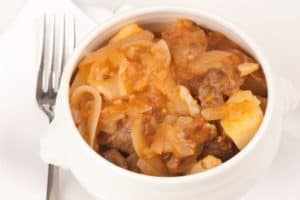 Fresh garlic and tomatoes combined with caraway seeds give this a different and great flavour.
Serves 4
vegetable oil spray
500g New Zealand farm-raised diced venison
1 clove garlic, peeled and crushed
2 tsp caraway seeds
4 large tomatoes, skinned
2 cups herb stock
4 boiling or new potatoes, washed and diced
Spray a heavy-based saucepan with oil. Add venison and brown on all sides.
Add garlic and caraway seeds and stir fry until the garlic sizzles.
Add tomatoes, water and potatoes to the pan. Bring to the boil, reduce heat and simmer covered for about 45 minutes or until venison is cooked and potatoes are tender.
Serve with a medley of steamed seasonal vegetables e.g. cauliflower florets, carrot sticks, green beans and courgette rings.
Note: Make herb stock by simmering a handful of parsley, a sliced lemon and a bay leaf in a litre of water for about 15 minutes. Strain and pour into clean jars.
Nutrition Information Panel
Per Serving [ Serves]
Energy
1262 kJ
Protein
38g
Total fat
– saturated fat
3.7g
0.9g
Carbohydrates
– sugars
35.7g
4.1g
Fibre
4.5g
Gluten
5g
Sodium
346g