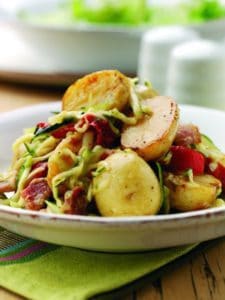 For a delicious weekend brunch serve with a poached egg on top and aioli on the side.
Serves 2
400g new or boiling potatoes, halved if necessary
1 red capsicum, deseeded and thickly sliced
2 rashers smoked back bacon, diced
1 Tbsp vegetable oil
1 courgette, coarsely grated
2 tsp sherry or white vinegar
Preheat oven to 200°C.
Place potatoes, capsicum and bacon in a small roasting pan and drizzle with oil. Place in preheated oven and bake for 20 minutes or until potatoes are cooked.
Allow to cool slightly.
Mix in courgette and vinegar and serve warm.
Nutrition Information Panel
Per Serving [ Serves]
Energy
1775 kJ
Protein
13.3g
Total fat
– saturated fat
24.8g
7.9g
Carbohydrates
– sugars
41.5g
1.7g
Fibre
4.7g
Gluten
0g
Sodium
523g
Gluten Free