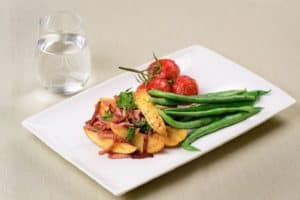 Wedges are delicious, especially served with bacon lardons.
Serves 4
4 medium roasting potatoes, sliced into small thin wedges (8-10 per potato)
2 Tbsp canola oil
pinch of salt
freshly ground pepper
parsley sprigs for garnish
Preheat oven to 200ºC.
Place oil and potatoes in a single layer on a large baking tray.
Bake in preheated oven for 20-25 minutes or until potatoes are tender and golden.
Season with salt and pepper, garnish with parsley and serve with bacon lardons, green beans and whole roast tomatoes.