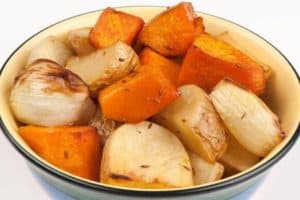 Classy café style winter vegetables; serve as a hot vegetable, or as a salad.
Serves 4-6
300g pumpkin, peeled, deseeded and diced into chunks
2-3 mashing or baking potatoes, unpeeled and cut into chunks
2 onions, peeled and sliced into wedges
2-3 turnips, sliced into wedges, or use extra potatoes
2 Tbsp vegetable oil
1 tsp cumin seeds
2 Tbsp lemon juice
1 Tbsp brown sugar
freshly ground black pepper, to taste
Preheat oven to 200°C.
Place pumpkin, potatoes, onions and turnips in a baking dish.
Combine oil, cumin seeds, lemon juice, sugar and pepper. Drizzle over vegetables and toss to coat.
Bake in preheated oven for 25-35 minutes or until vegetables are tender and golden brown.
Serve.
Variation: Try beetroot instead of turnip for a more dramatic look – baked beetroot is sweet and succulent.
Nutrition Information Panel
Per Serving [4 Serves]
Energy
692 kJ
Protein
3.4g
Total fat
– saturated fat
6g
0.7g
Carbohydrates
– sugars
27.8g
9.7g
Fibre
4.3g
Gluten
0g
Sodium
39.8g
Gluten Free