It is crucial that growers and the wider potato industry make submissions on the application.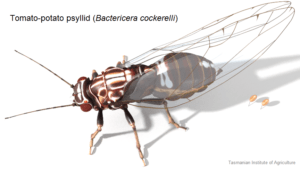 A collective of horticultural industry groups comprising Potatoes New Zealand Inc, Tomatoes NZ Inc, Vegetables NZ Inc, Heinz-Wattie's NZ Ltd, and NZ Tamarillo Growers Association Inc has applied to the Environmental Protection Authority (EPA) to import and release a biological control agent to assist with the control of the tomato potato psyllid (Bactericera cockerelli).
The tomato potato psyllid (TPP) was first detected in New Zealand in 2006 and is a serious pest of solanaceous crops. It has caused significant economic losses of well over $100 million to New Zealand's potato, tomato, capsicum and tamarillo industries.
TPP not only causes damage to the crops it feeds on but also transmits a plant disease (Liberibacter) which causes yellowing of leaves, wilting and stunting of growth and reduces quality and yields. In potatoes it also causes browning of potato tubers and they are unsuitable for processing.
From the first detection of TPP in NZ in 2006 horticultural groups in collaboration with Plant and Food Research, with the support of MPI's "Sustainable Farming Fund" have been carrying out research to understand and manage TPP in New Zealand. One aspect of this research is to look for biological control agents.
It is crucial that growers and the wider potato industry make submissions on the application. The submissions do not have to be long but need to explain how TPP impacts your businesses and how a biological control agent such as Tamarixia will benefit your business, staff and most importantly your local community.
Supporting submissions from growers affected by TPP will be critical as the EPA decision-making committee assesses the application.

IMPORTANT – How to make a submission in support of the EPA application
The submission form is quite simple but does require some specific content, see below for a guide to making a submission to the EPA. The EPA requests that all submissions are made via the EPA submission form but submissions may also be sent as an email or letter to the EPA. See the library for documents.
Please support your industry!
FAQs to inform submissions.