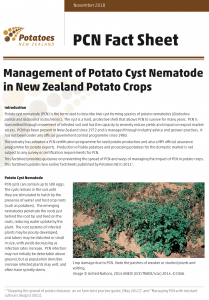 A new PCN Fact Sheet entitled "Management of Potato Cyst Nematode in New Zealand Potato Crops" has been published by PotatoesNZ.  The fact sheet summarises the characteristics of the species and goes on to describe the certification programme that has been established.
This fact-sheet provides guidance on preventing the spread of PCN and ways of managing the impact of PCN in potato crops. It replaces two earlier fact-sheets published by Potatoes NZ in 2011.
Read the full copy of the fact sheet in the Potatoes NZ library.