For many growers, the arrival or detection of an unwanted pest such as fruit fly into New Zealand is the stuff of nightmares. The loss of access to markets, both domestic and export at crucial times of production may very well be catastrophic. However, growers may not be the only ones affected by an unwanted pest arrival. Often unwanted pests are first detected near ports/points of entry for people and freight in New Zealand. These areas are generally well populated with people and businesses. Consequently, businesses such as exporters, packhouses, transport companies, freight forwarders, wholesale markets and fresh produce retailers in the vicinity may well be affected. From a business perspective, it would be prudent for these types of businesses to have an awareness of what these effects may be and what can be done to plan for them to minimise or mitigate the impact.
The advent of Government Industry Agreements (GIA) in which Government and industry jointly make decisions on how to deal with an unwanted pest detection has meant the formation of pre-determined decision making groups and protocols. This should enable well informed, well considered and strategic decisions to be made relatively swiftly. However, while these decisions are being made and more than likely afterwards, there will be restrictions and/or requirements required to be put in place. Horticultural industry sectors are developing business continuity plans to enable their growers to continue to trade and transport fresh produce in the event of any restrictions and requirements being put in place. Other businesses that work within the fresh produce industry should also consider preparing for this eventuality in their business planning and risk management.
The type of restrictions or requirements that may be put in place and things to consider include…
Establishment of a Controlled Area (see diagram): This will result in limitations on removal of host material from the specified area and limitations on fresh produce transiting through the area as detailed below.
No removal of fresh produce host material out of the Controlled Area: This obviously has implications for growers if they are located within a Controlled Area. However, there are also implications for other businesses that deal in fresh produce. Even if fresh produce is transported into the Controlled Area and not actually produced within the area it cannot subsequently be removed. This will affect fresh produce retailers, freight forwarders and central distribution depots located within a controlled zone. Some may remember the complexities associated with supermarkets and fresh produce stores located in the Controlled Area during the last fruit fly find in Auckland. This resulted in restrictions on those retailers not being able to trade certain fresh produce items during the time the controlled area was in effect. Retailers may have been able to bring fresh produce into the Controlled Area, but their customers were not able to take it out. If a central delivery depot is located within the Controlled Area, businesses should consider whether fresh produce could be delivered direct or whether an alternative depot could be used. Considering options prior to the event may mean contingencies can put into action more quickly when needed.
Transit through the Controlled Area is restricted: Transit through the Controlled Area may not be allowed or may be possible with pest proofing of packaging. One way for businesses to plan for the establishment of a Controlled Area is to consider alternative routes. In many instances, alternative routes may be available. Thought should be given to mapping and/or trialing alternative routes.
Export Restriction Zone (see diagram): This is a pre-determined zone from which fresh produce cannot be sourced for export. Some destination countries have specific requirements for fresh produce to come from countries free of fruit-fly. In the event of the arrival of fruit fly that has not established in New Zealand, these countries may modify their requirements to enable fresh produce to still be exported to them. Generally, this produce will need to be sourced a minimum specified distance from where an incursion is. For exporters, this may mean fresh produce cannot be sourced from your usual supplier.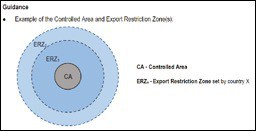 Pest proofing packaging: If there is a sudden need for fresh produce packaging to be pest proofed, there will almost certainly be a number of businesses looking for a solution.  Consideration as to how this may be done, materials to used and how they can be sourced may save valuable time later.
Traceability: The ability to trace where fresh produce has come from and where it has gone is crucial when determining where affected or potentially affected produce is located and also in providing evidence as to where fresh produce has been grown and sourced. It will be worthwhile checking inventory systems have the capability to do this. Carrying out a mock recall or traceback may be a good way of testing the inventory system and is generally a requirement for food safety systems that many businesses within the fresh produce industry already adhere to.
As a way of dealing with the requirements listed above for fruit fly, a protocol called the "Official Assurance Programme for the export of fruit fly host material" (OAP) has been jointly developed by industry and Government. The OAP describes activities that businesses such as freight forwarders, exporters and packhouses must do in the event of an incursion e.g. proving where fresh produce was grown, what the transport route was, how the fresh produce was protected from infestation etc. This OAP enables businesses with approved MPI organisation systems (MAOs) to pre-plan and include these additional requirements into their systems so they are ready to go when needed with little or no delay. There has also been guidance developed to assist MAOs in adapting their systems to incorporate the OAP. A similar initiative is being looked at for movement for fresh produce domestically. The OAP and guidance document can be found at the following link:
https://www.mpi.govt.nz/exporting/food/fruit-and-vegetables/official-assurance-programmes/
Although it cannot be predicted what, when or where the next unwanted pest will be found in New Zealand, preparation can be made for the eventuality.  By preparing well, the effects of imposed restrictions on businesses can be minimised.
If an incursion occurs, the location and size of the Controlled Area and the Export Restriction Zone(s) will be available on the MPI website or can be requested from cynagrkcbegf@zcv.tbig.am.  It is also important for impacted businesses to liaise closely with their associated representative body during this time for any further information on the response to the unwanted pest.