Republished with permission from www.stuff.co.nz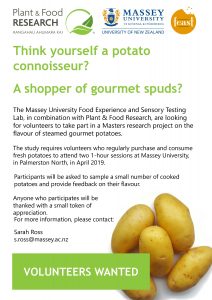 Calling all carb fans – here's your chance to chow down in the name of science.  
Massey University student Sarah Ross is on the hunt for 120 potato connoisseurs to sample spuds as part of her masters project. The project requires volunteers who regularly buy and eat potatoes to taste test the steamed vegetables and give feedback on the flavour. 
Although steaming might not be the first choice cooking method for most potato-loving Kiwis, it provided the purest potato flavour, Ross said. 
"When you add fat or salt during cooking, you get different reactions and flavour changes," Ross said. "Even boiling has the potential for some compounds to leach out so steaming is the best way to make sure you get all the flavour possible." 
There should be no shortage of qualified candidates for the project, with figures from Potatoes New Zealand showing just how much Kiwis love their spuds. 
The country has around 200 potato growers and a growing area of 10,591 hectares.  
More than 50 varieties are grown for domestic and export markets but 75 per cent of the potato crop ends up in Kiwi stomachs. 
And while the starchy vegetable has fallen out of fashion in some circles in recent years, Ross said her research posed no threat to waistlines. 
"They'll only be eating a total of about three potatoes across the study so there's not really a worry about calories."  
The project, run through Massey's Food Experience and Sensory Testing Lab with Plant and Food Research, is open to volunteers aged 18-65.   
Potato fans must be able to attend two one-hour taste testing sessions in Palmerston North next month. 
For more information, email Sarah at f.ebff@znffrl.np.am. 
Article published on Stuff.co.za. Author: Esther Taunton – Senior Rural Reporter. rfgure.gnhagba@fghss.pb.am