by Gemma Carroll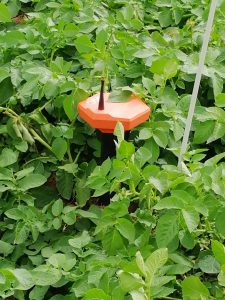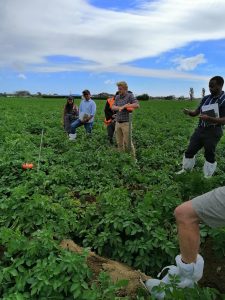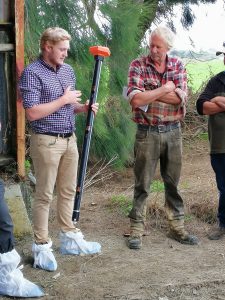 Teralytic is a soil analytics company which enables farmers to grow more, using less product/enhancement/applications whilst reducing the environmental impact of agriculture.  
Teralytic's wireless probe contains 26 sensors which provide the most detailed soil quality data available, reporting soil moisture, salinity, pH, and NPK at three different depths, as well as aeration, respiration, air temperature, light, and humidity.  
Potatoes NZ has 9 probes being trialled at 3 locations across our growing regions. It is hoped if successful, these can be utilized by farmers to operate smarter, more sustainable businesses and to enable farmers to meet the growing requirements to manage nitrate levels.  
During our 2019 Field Walks the probes visited at Canterbury and Levin were the focus of stimulating discussion and many questions. Agronomists and farmers could see the potential in these smart farming tools. 
Teralytic claims to be the "most comprehensive soil probe ever built" although they are not finished yet, with ongoing improvements and tweeks being added. 
The probes send data back to the farmer detailing surface, soil and air content and quality. It is wireless technology via a long-distance network that transmits data up to 16 kilometres. 
Data is aggregated and sent in a secure live-stream to cloud servers, where it is analysed and processed. 
Statistics on air temperature, humidity, light, soil moisture, salinity, soil temperature, pH, nitrate, [potassium,. Phosphorus, aeration (O2) and respiration (CO2). 
These results available in real time, provide enough information to predict the needs of crops and could help farmers/farm managers with decision making and ease the stress of compliance. It seems an obvious tool to pair alongside some of the work from Landwise, on fertilizer applications and nitrate leaching. Another example of Potatoes NZ research and development trials, working towards a sustainable future for our industry. 
We are the first country outside the U.S. (the home of the Teralytic Probe) to trial these tools, showing that PNZ is at the cutting edge and can share outcomes and demonstrate innovation across the sector, acting as a leader in Horticulture.  
Spuddy awesome! 
For more information visit www.teralytic.com.