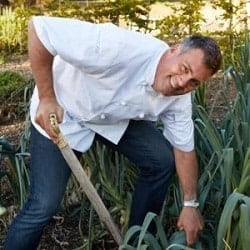 Makes 24 fritters
Fritters:
2 large onions, peeled and finely chopped
4 eggs, beaten
½ cup plain flour
½ cup fresh herbs, chopped
1 tsp salt
¼ tsp ground pepper
6 large general purpose potatoes, peeled and grated
4 carrots, peeled and grated
1 courgette, grated
½ cup olive oil-based margarine
4 Tbsp oil
Gremolata:
½ cup brazil nuts, thinly sliced
1 orange, zested
½ orange, juiced
3 garlic cloves, peeled and finely chopped
1 cup flat-leaf parsley, chopped
¼ cup extra-virgin olive oil
salt and pepper
Fritters:
In a large mixing bowl, combine onion, eggs and flour. Stir in herbs, salt and pepper, potatoes, carrots, courgette and margarine. Mix together well.
On a barbecue, solid-top grill or thick bottomed pan, heat the oil. Place on spoonfuls of batter, cook until golden, flip over and cook until golden on the other side.
If you are feeding a lot of hungry people, you can seal the fritters on both sides, transfer to a baking tray and finish cooking in a preheated 190°C oven for 5-6 minutes.
Gremolata:
In a mixing bowl, toss the brazil nuts, orange zest, and juice, garlic and parsley. In a steady stream, stir in the olive oil and season with salt and pepper.
Source: A pinch of Salt: New Holland