Leading Food Writer Niki Bezzant discusses potatoes for Christmas…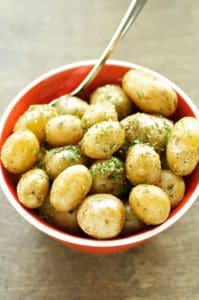 Well, we have rocketed towards Christmas, and it's now only a few days away. Now our attention turns to the Christmas day menu.
Most of us will have potatoes as part of our Christmas feast. In my family it was always my grandad's new potatoes, grown to be harvested for the day. Now he's no longer with us, we'll be buying potatoes, but they'll be new, waxy and petite and served simply boiled and kissed with butter, mint, salt and pepper.
There was a brief flurry of panic recently in the media when stories emerged of a potato shortage possibly meaning potatoes might be missing from many Christmas tables, but luckily that turned out to be a false alarm. We will be paying a little more for our Christmas spuds, but not as much as we would for pumpkin, which has risen to alarming prices. But whoever heard of Christmas pumpkin, anyway?
A classic way to use leftover Christmas potatoes, if such a thing exists in your household,  is that classic summer dish in its own right: potato salad. There's something fabulously comforting and delicious about cold potatoes, creamy dressing and a few crunchy additions that makes it popular with everyone.
Cold potatoes, interestingly, are very good for us.
When potatoes are cooled, the structure of some of the starch in the potato changes to form something called resistant starch. This is a special type of fibre which can't be digested in the small intestine, and is fermented in the large intestine. There's evidence that this is really beneficial for our gut health in particular. So potato salad, apart from its yumminess, has other added benefits.
My favourite throw-together potato salad involves cold potatoes, obviously, with a dressing made from a half-and-half mixture of mayonnaise (I use the Japanese Kewpie mayo) and plain yoghurt. I love the lightness and tang the yoghurt brings, and the creaminess of the mayo. Sometimes I add Dijon mustard. I also usually throw in some bitter greens such as rocket, and parsley. A bit of salt and a ton of freshly-ground black pepper does the trick for me. There are almost infinite variations of potato salad; you could easily eat it every day of the summer and make a different version every day. It's important to use waxy potatoes, though, whatever else you do; these are the ones that boil well and hold their shape when cooled.
One of the most intriguing potato salads I've tried is the Japanese version. As with many Japanese foods, it's quite different from what we are used to. It's a kind of a mushy, half-mashed salad, made with starchier floury potatoes, often cooked in dashi, the essential Japanese stock made from seaweed. It's bound with the mysteriously delicious Kewpie mayonnaise, and also contains rice vinegar, hot mustard, carrots, egg and spring onion. It's sometimes served in a kind of sandwich or in a bun, or as part of a bento meal. The first time you come across it, it seems strange, but there's definitely an appeal to its unusual texture and punchy flavours. It's definitely worth a try, and very simple to make.
So, my advice this Christmas is: cook extra spuds, and enjoy a feast containing potato salad on Boxing Day.