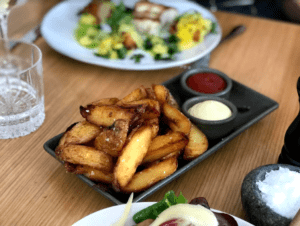 As the attendees of the recent Foodwriters NZ conference sat down for their final lunch of the event, we were served a rare and wonderful thing.
Was it truffles? Precious saffron? Foie gras? No. In fact, as part of a stunning meal at top Hawke's Bay restaurant, Malo, it was a dish of beautifully golden roasted potatoes.
These were rare because, as I recently discovered, potatoes are not at all fashionable in the country's top restaurants.
In preparation for speaking at the recent launch of the new potatoes season, I did a brief survey of the award-winning restaurants in this year's Cuisine Good Food Awards. A look at their menus revealed not even a handful of dishes featuring potatoes as a main component, and only three potato side dishes.
Why is this? We know chefs love the new and the fresh. As creative people they are always looking for interesting new ways to express themselves and new ingredients. We've seen this reflected in the use of alternative carbohydrate foods on menus: lentils; grains like barley and quinoa; parsnips; sweet potato and cauliflower absolutely everywhere. The good old potato has been overshadowed, perhaps, by shiny new novelty carbs.
I suspect, though, that if more chefs put potatoes back on the menu, they might be rewarded. People love potatoes, don't forget. They're our number one or two favourite vegetable, by sales volume, every single year. They're a nostalgic family staple. But they can also be hugely sophisticated. Think of a beautiful potato dauphinoise or a classic potato gratin with a perfect steak. Or of a creamy, dreamy, silky mash made with love by pressing potatoes through mesh and whipping with lashings of butter and cream and salt. Or of a crispy hash of potato, golden and brown-edged, or crisply roasted or smoked potatoes in their skins like little bronze nuggets. These things have the makings of signature dishes; of plates that people come back to a restaurant just to order.
I love quinoa as much as the next person (despite Potatoes NZ's Chris Claridge memorably referring to it as 'the work of the devil') but I make that at home. I'd cross town for a really great potato dish.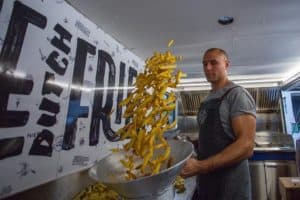 This may be why we're seeing a parallel trend emerging. Alongside the overlooking of potatoes by high end restaurants, we're seeing more outlets serving nothing but potatoes at street level. I'm talking about the fries places; hole-in- the-walls, popups and trucks taking the French fry extremely seriously. I've tried a few of these now (it's a tough job, but this is what professional food writers have to do for you, reader) and it's very interesting to see the craft and care that goes into the creation of these fries. There are Belgian-style and Dutch-style fries, and there are fries of unspecified origin but great seriousness.
Fries are not a meal, of course (although I'd challenge anyone to eat another course after a serving of, say, Double Dutch fries). But they are a delicious and satisfying thing in their own right. And here's hoping they herald the start of a potato renaissance when it comes to eating out in New Zealand.