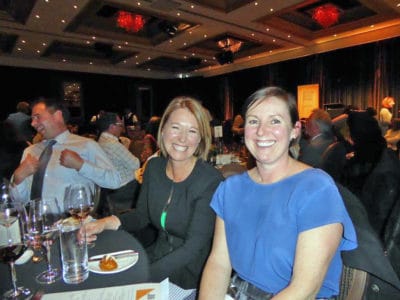 New Zealanders are extremely lucky to have access to some of the best produce in the world, according to Ruth Reichl.  It's high praise from a woman who has reigned supreme for more than three decades in the US culinary scene as the food editor of the Los Angeles Times, the restaurant critic the New York Times, and editor-in-chief of Gourmet magazine.
Ruth Reichl's visit to New Zealand as a guest of the Christchurch Writers' Festival, provided a rare opportunity for New Zealand food enthusiasts to hear many of the war stories Ruth has amassed during her long career as one of the world's most influential people working in food journalism.
Potatoes New Zealand was delighted to host a table of New Zealand's own influential food writers including Ray McVinnie (Senior Food Editor of Cuisine), Niki Bezzant (Editor of the Healthy Food Guide), Claire Aldous (Food Editor of Dish), Jo Wilcox (New Zealand Women's Weekly), Tracey Sunderland (My Food Bag) and Jo Elwin (Editor of Bite, NZ Herald).
Among the excellent local produce offered on the night were potatoes – served two ways.  Attendees were treated to fondant potato with 48 hour braised beef short rib, apple-vanilla puree, baby carrot and rose jelly accompanied by steamed broccoli and Agria potato puree.
The evening also provided an excellent opportunity for Potatoes New Zealand Inc's Education and Marketing team to promote industry messages around the nutrition and versatility of potatoes.  Forging strong working relationships with New Zealand's influential food writers and editors is critical to ensuring potatoes stay at the forefront of New Zealand's food fashion and remain an exciting kitchen staple within reach of all New Zealanders.