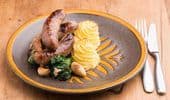 Try this sophisticated take on sausages and mash!
Serves 1
25g sliced onion
4 cloves garlic, peeled
olive oil
200 ml beef stock
3 pork and cider sausages
80g silverbeet, leaves sliced in 2 cm wide strips
60g tat soi
olive oil and butter as required
flaky salt, to taste
freshly cracked pepper, to taste
2 duchess potatoes, warm (see our recipe)
Gently sweat onion and garlic in a pan with some olive oil until soft. Once onions and garlic are soft, increase the heat until they start to colour and caramelise.
Pour in the beef stock, bring to the boil and reduce in quantity to approximately half of the original volume to form a slightly syrupy sauce.
Preheat oven to 180°C.
Brush the sausages with a very small amount of olive oil. Place in preheated oven to for 15-20 minutes, or until cooked.
Stir fry the silverbeet and tat soy in a mixture of butter and olive oil until soft. Season with salt and freshly cracked pepper. This process should take no more than 5 minutes.
To serve, arrange the duchess potatoes on a plate, spoon the silverbeet and tat soi mixture next to the potatoes. Pour the garlic and onion sauce over and arrange the sausages neatly on top. Serve immediately.