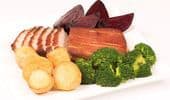 Crackling is a number one favourite and this delicious belly dish goes so well with roast potatoes and boiled vegetables.
Serves 4
600g pork belly
1 cup apple syrup
1-2 cups water
4-8 roasting potatoes, roasted
8-10 broccoli florets, steamed
2-4 beetroot, boiled and quartered
Score the skin of the pork belly. Place the pork belly flesh side down in a baking dish.
Mix the apple syrup and water together and pour over the pork belly.
Cover and leave to marinate overnight.
The next day, preheat oven to 200°C.
Pour the marinade off the pork belly. Place the pork in the preheated oven and cook until the skin bubbles.
Reduce heat to 170°C and continue cooking for about 30 minutes. Remove from oven, rest for 5-10 minutes and then carve.
Serve with roasted potatoes, broccoli and beetroot.
To roast potatoes:
Preheat oven to 200°C.
Choose a baking dish that is large enough to spread the potatoes out in a single layer. Spray with vegetable oil and place in oven to heat. Remove from oven, add potatoes and spray lightly with oil.
Roast in preheated oven for 35-45 minutes, or until golden, crisp and tender when pierced with a skewer or knife. Turn several times during cooking. Remove from oven and serve.
To boil beetroot:
Wash beetroot and leave on some stem and the roots.
Place beetroot in a saucepan of cold water and cover. Bring to the boil. Reduce heat and simmer for 20-30 minutes, or until tender when tested with a skewer. The length of time will depend on the size and age of the beetroot. Remove from water and cool. Remove skin which will slip off easily. Young or baby beetroot may not need skins removed. Quarter large beetroot to serve.
To steam broccoli:
Choose a saucepan with a steamer. Half fill the saucepan with water and bring to the boil.
Place broccoli florets in the steamer making sure they do not touch the water. Cover and adjust the heat to a steady simmer.
Cook until vegetables are tender. Add more boiling water if necessary.
Nutrition Information Panel
Per Serving [4 Serves]
Energy
3116 kJ
Protein
57.6g
Total fat
– saturated fat
19.6g
6.9g
Carbohydrates
– sugars
80.9g
58g
Fibre
9.6g
Gluten
0g
Sodium
280g
Gluten Free