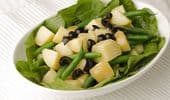 A delicious potato salad.
Serves 2-3
4 boiling or new potatoes, cooked, sliced into 1 cm dice
2 Tbsp vinaigrette
1 Tbsp chopped parsley
½ cup lite mayonnaise
2 cups chopped green beans, blanched
¼ cup pitted black olives, whole or chopped
2 cups salad leaves
Place potatoes in a bowl. Toss with vinaigrette.
If still warm, allow potatoes to cool. Add parsley, mayonnaise, beans and olives and gently mix ingredients together.
Place on a bed of salad leaves and serve.
To blanch beans: Place in rapidly boiling water for 1-2 minutes. Remove and cool in iced water or under cold running water. Drain well.
Nutrition Information Panel
Per Serving [3 Serves]
Energy
1615 kJ
Protein
6.9g
Total fat
– saturated fat
19.2g
2.5g
Carbohydrates
– sugars
44g
11g
Fibre
6.9g
Gluten
0g
Sodium
416g
Gluten Free