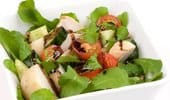 A delicious meal on the run – very simple, very tasty. Change the flavour by changing the dressing used!
Serves 4
4-6 large boiling potatoes (or 10-12 small new potatoes), washed
2 cups salad leaves
handful fresh basil leaves, optional
4-6 vine tomatoes, sliced into halves
½ cooked chicken, sliced into bite-sized chunks
¼ cup balsamic dressing
Slice the potatoes into bite-sized chunks, place in a saucepan, cover with cold water, bring to the boil, reduce heat and simmer 12-15 minutes or until tender. Drain.
Toss salad leaves, basil leaves, tomatoes, chicken together.
Add the potatoes while they are still warm.
Drizzle with dressing.
Serve with ciabatta bread.
Variation: add 3 spring onions, sliced, and 1 cup crunchy sprouts to the salad.
Nutrition Information Panel
Per Serving [4 Serves]
Energy
2043 kJ
Protein
28.2g
Total fat
– saturated fat
25.5g
6.5g
Carbohydrates
– sugars
34.7g
7.3g
Fibre
6.2g
Gluten
0g
Sodium
216g
Gluten Free