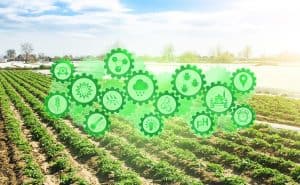 Potatoes NZ is building a sustainable future for our growers, the land, water and markets.
NZ Potato Industry Strategic Targets 2021
1.       Double the value of fresh & processed exports by 2025.
Aligned with objectives of the government's business growth agenda.
Implies volume and value growth.
2.       Enhance the value of the domestic market by 50% by 2025.
Implies value growth on stable volumes above
3.       Zero net nutrient and GHG emissions by 2030.
Aligned with the objectives of the government's emission
To be achieved in order of priority via reduction, mitigation, and offsetting.
Target 3: Zero Net Nutrient & GHG Industry Emissions by 2030.
The industry has adopted environmental targets that align with domestic and international targets. This ensures that the industry maintains its social and regulatory license. The tactics will include a mix of reduction, mitigation and off setting. The order of priority of these tactics will be reduction, mitigation and only as a last resort where all other tactics have failed then off setting.
Potatoes New Zealand is currently managing a collaborative, 6 year project called Sustainable Vegetable Systems (SVS) which aims to provide the best tools for growers to maintain both regulatory and social license to grow.
The NZ Potato Industry's sustainability will be maintained with the outcomes from SVS, as well as a further project to be started in 2021 investigating Regenerative Horticulture.
Furthermore Horticulture New Zealand, who receive levies from our growers, are partnering in He Waka Eke Noa which aims to achieve similar future-proofing for sector groups https://hewakaekenoa.nz/our-work/
Useful Files on Climate Change & Environment from a NZ & global perspective.