There was a whole lot of 'Spud love' shared at the annual May Market Day this year. An event hosted by Foodwriters New Zealand that allows various New Zealand food producers to showcase their latest and greatest offerings to a roomful of writers, communicators and influential personalities in the NZ food space. Fifth generation Grower – Robin Oakley of 'Oakleys Premium Fresh Vegetables' and his wife Shirleen made the journey from Canterbury to Auckland to shine the light on their Golden Gourmet potatoes.
Held at Ellerslie Race course the event provided the opportunity to connect with established food writers, stylists, recipe developers, bloggers, guests of NZ Chefs and others within the industry. For writers being able to speak directly to the grower himself – to ask questions, talk shelf life, varieties, storage, flavour and soil characteristics was extremely valuable for them and based on social media there were plenty of photos, comments and tags being shared both during and after the event.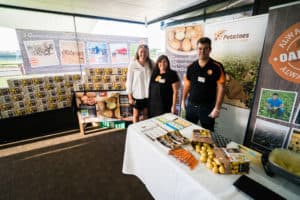 According to Robin Oakley – it was a great event, "We were grateful to have the opportunity to participate in the May Market Day with PNZ. It was a good opportunity to mix with some of our industry influencers in the domestic market. We got to show some of our product but even more importantly were the worthwhile conversations that further enlighten these people about our potatoes and what is involved in producing it."
Among the attendees were a range of food writers such as TV Chef Personality – Ray McVinnie, Food Editor of Dish magazine – Claire Aldous and Food Writer at Bite NZ – Kathy Paterson to name a few. With stall holders including: Vegetables NZ, Farro Fresh, I Love Pies, Barkers of Geraldine and a range of smaller artisan producers such as Clevedon Buffalo Dairy Company, Line's Knackerbroed and Forage & Ferment Sauerkraut.
Potatoes New Zealand were there to support Oakley's with our range of educational resources on display which are all available to order free online. Potatoes New Zealand looks forward to attending next years event – helping to share positive, real and relevant messaging about potatoes in all their wonderful forms. But most importantly encouraging everyone to share the #SPUDLOVE.
It was reinforced that sharing this 'paddock to plate' story and helping understand where our food comes from and who grows it are becoming even more important to both writers and consumers. So for all growers in this industry – don't be afraid to tell your story, put your face behind the brand, share photos of you and your team out and about in the paddock and take people along for the ride!
Kate Underwood
Potatoes New Zealand
[Images provided by Foodwriters New Zealand.]