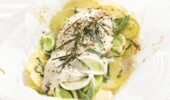 Keep this dish interesting by using any combination of fresh herbs.
Serves 4
4 medium baking potatoes, thinly sliced
2 leeks, finely sliced
4 skinless chicken breasts, beaten flat
½ cup white wine
¾ cup lite evaporated milk or cream
4 sprigs tarragon, chopped
pinch salt
freshly ground black pepper, to taste
Preheat oven to 190ºC.
Take 4 pieces of aluminium foil and lay out on a baking tray.
Place potato slices and leeks onto each piece. Lay the chicken on top.
Spoon 2 Tbsp wine and 3 Tbsp evaporated milk into each parcel.
Add herbs, salt and freshly ground black pepper.
Fold up the foil and seal the parcel.
Bake in preheated oven for 20-25 minutes or until tender.
Serve with a green salad.
Variation: Use basil or thyme.
Nutrition Information Panel
Per Serving [4 Serves]
Energy
1889 kJ
Protein
45g
Total fat
– saturated fat
14g
7.5g
Carbohydrates
– sugars
29g
7.6g
Fibre
4.4g
Gluten
0g
Sodium
166g
Gluten Free