Keep safe, keep growing
How to be healthy and safe in horticulture
Horticulture New Zealand together with WorkSafe New Zealand have put together a health & safety toolkit to help keep you, your workers and your visitors healthy and safe when in a horticulture environment.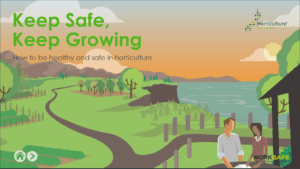 Experience shows that health and safety doesn't just happen. It takes a conscious decision from everyone involved to make sure all the pieces are in place to prevent people from being hurt or becoming ill. The interactive site provides:
Useful tips and tools including:
Farm diary
Farm rules
Farm hazard map
Emergency plan
Training register
Maintenance record
Contractor orientation checklist; and
Injury incident and near-miss report.
Information for dealing with:
Children and young people
Worker engagement and participation
WorkSafe assessment and Inspector Visit
Safe use of tractors
Contractors on farms
Wire strike; and
Visitors and events on farms.
Health and safety is often ignored because it's so intimidating and put into the "too hard basket"! So the site breaks it down into easy to understand bites, providing activities to complete which will then be emailed to you for review and implementation.

The site also provides helpful tips and hints on how to include health and safety in your every day activities. These include discussing how work will be completed and creating a safe environment for people to raise potential risks. The goal is to ensure that everyone gets home from work healthy and uninjured.